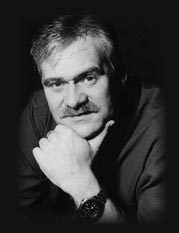 Matt Doyle has come to be a successful artist not through a tutored or manufactured process, but simply through the love of attention to detail and the possibilities of working with various materials and subjects. He has been exhibiting his works for many years with great success and now his work is known worldwide. He has painted many subjects in various mediums, but over the past eight years he has begun to specialise in portraits.
Apart from his many commissions, he has made a name for his painting of Irish celebrity portraits. To date he has painted portraits of celebrities such as Ronan Keating and Samantha Mumba (Pop Stars), John B. Keane (Famous Irish Writer), Brendan Gleeson (Actor), Linda Martin (Singer and TV Presenter), Don Baker (World Famous Blues Singer), The Corr Sisters, Frank Bruno, Uri Geller ) and Shane McGowan (Irish Singer and Composer).
Not only does he paint their portraits, but also the celebrities themselves originally sign them. These pieces have become very collectable and will eventually be works of art to treasure. He is presently working on his next exhibition of celebrities and as always he donates a big percentage of sales to a designated charity.
Matt now works from his studio in the quaint fishing village of Courtown Harbour in the South East of Ireland. All his works are original and never repainted or repeated. If you have a painting or drawing painted and signed by Matt himself, you definitely do possess an original piece of art.